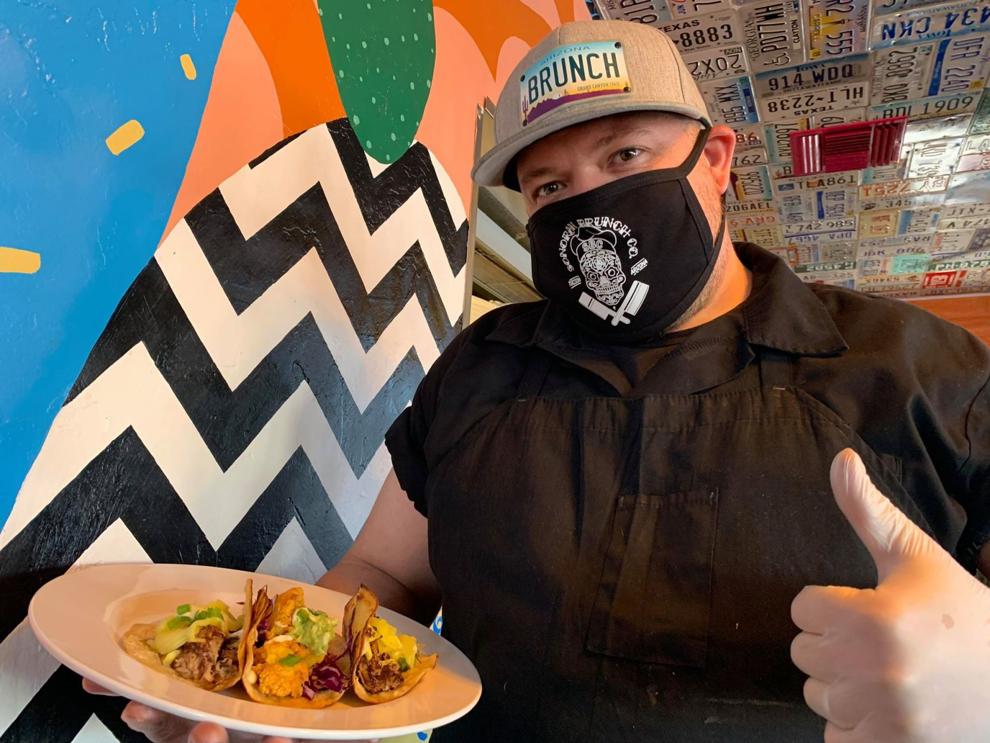 Jimmy Buffet's iconic lost shaker of salt now has some tacos to go with it. If you can find them, that is.
Tucson has been dubbed the taco capital of the southwest owing to our proximity to the Mexico border and high volume of taquerias that dot the local landscape. You certainly don't have to look far beyond the block to find these foldable foods no matter where you live or work.
But some of the tacos that appear to be trending these days are otherwise hard to find. That's because they're sold at the Sonoran Brunch Company, 1060 S. Kolb Road, a couple of hours after the eastside eatery closes.
Wait. What?
While the restaurant is open daily from 7:00 am – 2:00 pm, it morphs into the Lost Taco Shop every Tuesday through Saturday from 4:00 – 8:30 pm. This means that owner and executive chef Kenny King and his crew are getting even less sleep before they're required to revert to the brunch concept again by 7:00 the next morning. But this is the taco business, and business is good.
"The Lost Taco Shop is sort of my alter ego," said King. "It's a menu change and a format change, like a taco truck hidden inside of our existing restaurant."
A few of these tacos are featured on his Sonoran Brunch Company menu as well, but several of them, like the Baja-style fish and shrimp tacos, are unique to the pop-up's lineup.
Ever the storyteller, King explained to me that each taco on his menu has a tale to tell, two of which he says hold special places in his heart.
One is the pickled and tempura-fried cauliflower taco, with avocado, red cabbage, and a morita chile aioli.
"I've been making versions of this taco for several years, and my brother and I, who both love fried pickles, went back and forth playing with ingredients and loved it with cauliflower," he said. "There are people doing different takes on cauliflower, but this one is unique to us and special to me."
Another star-studded selection is the carnitas taco, with shredded green chile pork, pickled onions, and a morita chile aioli.
"I've been cooking carnitas for almost 20 years, and this taco happens to be my wife's favorite thing on the planet," he said. "One of my favorite things on the planet is to prepare food for people and watch their reaction, and my favorite person to share that experience with is my wife."
King's wife, Niki, also happens to be the eatery's co-owner, general manager, and front-of-the-house hero, so she doesn't even need to leave work to get her Cloud 9 taco moment.
All of the tacos are made with corn tortillas from Tucson's Carniceria La Noria, or what King calls "my always and forever tortilla." Though tacos anchor the menu at the Lost Taco Shop, a host of other lost items have been found and are now featured there, including chicken wings, quesadillas, fries, burgers, grinders, and other sandwiches.
The Kings have announced that dine-in service will return "in the very near future" so, for now, everything is prepared and packaged to-go, through both counter service as well as their drive-through window. You can also call ahead to have your tacos and other "shares and schwag" available upon arrival, at 849-8005.
A delicious discovery has been made in a game of hide and seek, and Kenny King's nighttime tacos are no longer in the land of the lost.  
Contact Matt Russell, whose day job is CEO of Russell Public Communications, at mrussell@russellpublic.com. Russell is also the publisher of OnTheMenuLive.com as well as the host of the Friday Weekend Watch segment on the "Buckmaster Show" on KVOI 1030 AM.