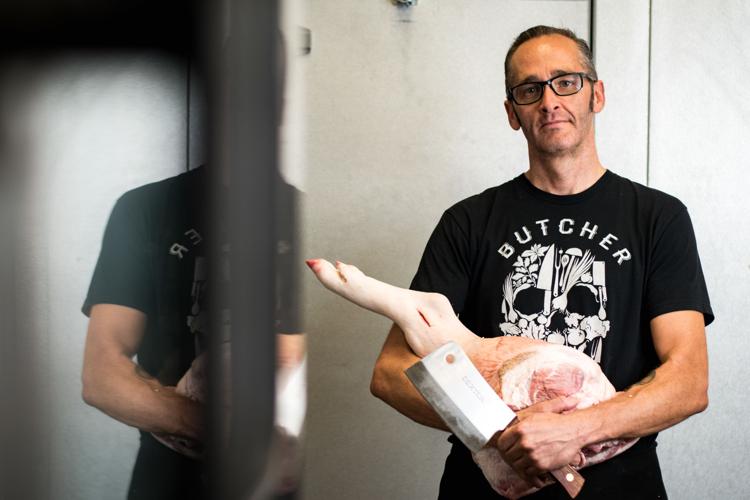 If there's a greater honor than having a meat box named after you, I know not of it.
Say goodbye to Forbes Meat Company's Smokehouse Box and join me in welcoming its successor, the Russell Box, the roots of which can be traced to the 1980s.
This is when butcher Ben Forbes was first introduced to meat-cutting science as a teenager working at a grocery store in Newport Beach. The store maintained a small meat shop, and Forbes would watch with interest when the butcher, who later became his meat mentor, demonstrated his craft.
"This was an old school butcher shop with wood floors and sawdust, and that is where I learned to cut meat," said Forbes, proprietor of Forbes Meat Company, 220 E. Broadway Boulevard. "I started by whittling off meat scraps, which taught me anatomy and bone structure, working my way to sides of beef and eventually breaking down whole animals."
Forbes ultimately took up the trade full time. In 2016, following stints in cities from Southern California to Southern Maine, he brought his butcher business to Tucson.
Meat boxes, or what I call treasure chests for the home cook, soon became a big part of his business. He currently offers eight ready-for-the-grill boxes, ranging from the Memorial Day Box, with steak, kabobs, sausages, and burger patties for $50, to the Half Pig Box, with more than 50 pounds of chops, tenderloins, sirloins, and other pig parts for $400.
Another popular package, the Smokehouse Box, was designed to "cater to the needs of people's desires, and people love smoked meats," he said. But the box recently got a new name, the Russell Box, reportedly inspired by the volume of my social media posts from my back yard as I'm cooking with my beloved Masterbuilt smokers – Sally, Stella, and Scarlett.
Yes, my smokers have names. They're part of the family. And I'd say that chances are good that my next Masterbuilt smoker will be named Ben.
That the news about the box's new name broke at the dawn of National Barbecue Month is surely no coincidence as its contents are intentionally cut from their respective carcasses for those of us from the low and slow school of smoking.
The Russell Box includes raw meats that Forbes sources from small family farms, including a three-pound brisket, a four-pound pork butt, a rack of pork ribs, and two pounds of what he calls Tucson hot links, house-made sausages from his proprietary meat blend.
Priced at $100, the box is designed to feed 10-15 people, or fewer if you've seen the way my friends and I recklessly attack platters of 'cue. The components are individually wrapped and frozen and will reside comfortably in your freezer at home for up to six months.
To be clear, if you can stand to let brisket, pork butt, ribs, and sausages sit untouched in your freezer for six months, this box probably isn't for you. And I would question whether we could even be friends.
When it comes to sipping with smoked meats, Forbes' pairing suggestions are on point. As a whiskey enthusiast who's widely known for enjoying a little workplace quaff while he cuts, he likes to pair barbecue with Old Ezra Seven-Year Bourbon from Ezra Brooks for its brown sugar notes, and WhistlePig's Piggyback Six-Year Rye for its subtle spice.
You can peruse his meat boxes and order online at www.ForbesMeat.company. I certainly did, and am eager to introduce Sally, Stella, and Scarlett to the Russell Box.
Contact Matt Russell, whose day job is CEO of Russell Public Communications, at mrussell@russellpublic.com. Russell is also the publisher of OnTheMenuLive.com as well as the host of the Friday Weekend Watch segment on the "Buckmaster Show" on KVOI 1030 AM.