One of the greatest gifts we can give this holiday season might not come wrapped in a festive bow. Giving back to the community through charitable donations, volunteer hours and other support makes our city a better place. 
In Arizona, taxpayers have an extra incentive to donate to qualifying nonprofit organizations through the state's Credit for Contributions to Qualifying Charitable Organizations program.
This income tax credit is available to those who contribute a maximum of $400 (or $800 for a married couple filing jointly) to a nonprofit that aids low income or disabled Arizona residents, or those receiving Temporary Assistance for Needy Families benefits. Those who donate receive a dollar-for-dollar tax credit when they file their taxes. 
For more information on the tax credit, a list of qualifying nonprofits and details on how to claim the tax credit, visit http://azcredits.org/qualifying-charitable-organizations-tax-credit/. 
Tucson is home to many deserving nonprofits who need the public's help this season to continue providing their services. Here's a list of local nonprofits you can contribute to this year. 
Fans of live music and altruistic nonprofits can unite when it comes to the growth that downtown's Rialto Theatre has seen since The Rialto Theatre Foundation purchased the venue from the Rio Nuevo District in 2015. The theatre is slated to celebrate its 100th anniversary in 2020, riding its recent ebb in nationwide standings, such as being ranked in the Pollstar Top 55 for ticket sales for much of the last decade. 
The venue was named one of the 100 greatest American music venues by music site Consequence of Sound and is a cause we can all support. Live music has helped transform our city's downtown region from an afterthought to a vibrant ecosystem, and The Rialto Theatre has been front and center in that renaissance. To make a contribution or buy gift certificates for the music lover on your gift list, visit rialtotheatre.com.
Emerge! Center Against Domestic Abuse has been strained by a recent surge in demand, providing roughly 20,000 "bed nights" to people fleeing abusive relationships in 2017 alone. The nonprofit, which serves as a haven to those trying to escape the horrors of domestic abuse, accepts toys, books and things of that nature for their Holiday House, which is a program that allows domestic abuse victims to pick out gifts for their children. 
The House opens in early December, but donations can be dropped off at their office on 2545 E. Adams St. For more information visit emergecenter.org. 
Animal lovers know the Humane Society of Southern Arizona for its shelters, which offer a second-chance to dogs, cats and other critters in need of a loving home. The society is the oldest and largest nonprofit in Southern Arizona that focuses on pets. According to the society's website, their mission is to "aim to make a better life for the cats, dogs and other furry friends that come through our doors." The HSSA is a 501(c)(3) charitable organization that offers full services to animals, including vaccinations, spaying and neutering. For more information on the HSSA and how you can support their efforts, go to hssaz.org. 
Primavera Foundation's main mission is to help homeless and under-employed Southern Arizonans via their affordable housing drives or through their courses on financial and homebuyer education. The foundation, which was founded in 1983, uses donations to help residents in difficult situations live financially sound lives. Primavera helps 8,000 people annually in the greater Tucson area, through the center's emergency shelter and its various services. The organization helps those in need in a number of ways, ranging from affordable rental housing, as well as homeless prevention drop-in shelters and centers; work employment services; financial education and empowerment courses. For more information on Primavera, call 308-3104 or visit primavera.org/donate.  
Valley of the Moon began in the 1920s, after George Phar Legler saw a need to heal both body mind, helping those in need from its location just south of the Rillito, off Campbell Road. Valley of the Moon was first incorporated as a nonprofit in 1945, with the stated purpose of "presenting the mind as one of the major factors in maintaining the health of the human body: to advocate tolerance towards all religions: and to foster the divine principle of tolerance and brotherly love for all mankind," according to the foundation's website. 
George's creation lives on some nine decades later, with the foundation working with the Tucson Historic Preservation Foundation in 2009 to develop a strategic long term preservation plan for the iconic property. The property was officially added to the National Register of Historic Places in 2011, and was declared a Tucson Historic Landmark in 2015. Such a designation means that Valley of the Moon will never be developed as anything other than what the site calls 'an enchanted story book land,' meaning you can still experience the wonder of Legler's original site well into the future. For more information on Valley of the Moon, go to tucsonvalleyofthemoon.com.
The Southern Arizona Research, Science and Engineering Foundation, or SARSEF, funds local science education and creates "Arizona's future critical thinkers and problem solvers thorough science and engineering."The organization hosts science fairs for local schools, offers a girls science camp and partners with local STEM organizations to help spread scientific literacy among kids. The organization recently hosted STEM Adventure Days at Pima Community College's Northwest Campus to connect local students with STEM-based businesses. SARSEF also inspires science learning in schools by celebrating local science projects. Beyond helping students, SARSEF also provides professional development tools and instruction for teachers, and presents classroom instruction on effective scientific practices. To make a contribution, visit sarsef.org/donors.
UNICEF works to advocate for the rights and safety of children and ensure youth have access to basic needs. Coordinating with United Nations partners and humanitarian organizations, UNICEF helps children all over the globe. Donations that will help provide food, water and medical supplies to the world's most vulner able children can be made to directly to UNICEF at donate.unicefusa.org. Local support to UNICEF can be given by visiting the United Nations Association of Southern Arizona gift store at 6264 E. Speedway Blvd. The store carries a large variety of world gifts, fair trade goods and works from handmade artisans made in more than 90 countries. The store donates 98.8 percent of its net profit to United Nations Programs, including UNICEF. To learn more about the UNASA gift store, including volunteer opportunities, visit unasatucson.org or call 520-881-7060.
For those who haven't been, it's important to note: The Loft Cinema is more than just a movie theater. They host specialty screenings of independent, underground and documentary films hosted by nonprofits and artists right here in Tucson. This local nonprofit theater is dedicated to creating community by hosting film festivals, classic movie screenings, and even free events where the whole town is invited. And if you want to support them other than just by watching movies, you can always become a Loft Member, which comes with plenty of special perks. The communal good The Loft creates is as diverse as the films they show. For more information, visit loftcinema.org.
While the Arizona-Sonora Desert Museum is a great place to see some desert animals, it is more than a zoo. This museum houses botanical gardens, art galleries, aquariums and even its own natural history museum. It is also dedicated to teaching the community about local plants and animals, and thereby supporting conservation efforts. The Desert Museum has a long list of ongoing research and conservation projects, and every donation and membership to them helps support nature itself. For more information, visit desertmuseum.org.
The Mini Time Machine Museum of Miniatures is a nonprofit dedicated to "preserving and advancing the art of miniatures" and those who create them. It really is impressive that one of the country's best and biggest museums about miniatures is right here in town. Their values are quality, accessibility and stewardship, and a stroll through their gorgeous halls proves that. Supporting the Mini Time Machine means supporting their series of school tours, exhibits featuring local artists, and youth literacy programs. For more information, visit theminitimemachine.org.
The Fox Tucson Theatre is a spectacle to any who gaze upon its stage, but this restored movie palace doesn't just host awesome concerts and theatre performances. The Fox hosts community showcases, youth arts, and historical presentations celebrating our town. Donating to or becoming a member of the Fox helps support the arts throughout downtown. For more information, visit foxtucson.com.
The Tucson Museum of Art is dedicated to "connecting art to life" in a number of ways, including community food events, local artisan markets, historical education, and hosting a variety of programs for students to learn about art and culture. Their wide variety of art means there's something for everyone to enjoy or learn about. Isn't that worth supporting? Even if you want to pass on a membership, the extraordinary gift shop offers a wide variety of artistic wares for someone on your shopping list. For more information, visit tucsonmuseumofart.org.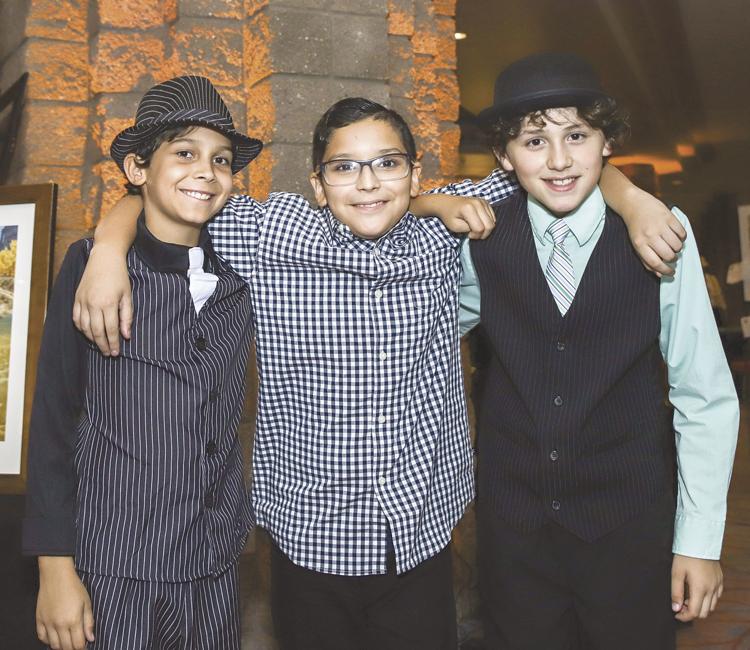 Big Brothers Big Sisters of Southern Arizona matches local kids with mentors. Besides the gift of friendship, the kids and their mentors go out and have fun at places like the zoo, the movies or even big events like El Tour de Tucson. Through their activities, Big Brothers Big Sisters helps kids succeed in school and their personal lives and creates an accountability and support system. While Big Brothers Big Sisters is a nationwide nonprofit, all of the chapters are independent and autonomous. To make a contribution, visit soazbigs.org/az-tax-credit/.
Looking to learn how to fix your bicycle, create unqiue art and join a group of likemided individuals with a love for community, all in one place? Look no further than BICAS, the primary project of Bootstraps to Share of Tucson. This nonprofit bicycle center relies heavily on generous donations, and uses those supplies to provide a playground of parts and fully-built rides. Through advocacy and salvage, the organization's mission is to "participate in affordable bicycle transportation, education, and creative recycling with our greater Tucson community." What that means for visitors is safe place to learn about this popular hobby (and mode of transportation), built a new bike and hit the road. There classes to check out, programs to join and art to enjoy. To make a contribution, visit bicas.org/donate.
Did you know that one in three families struggles to afford diapers? The Diaper Bank of Southern Arizona has a goal to change that statistic this December by collecting 1 million diapers, and they need the community's help. The diaper bank was founded in 1994, and provides supplies to individuals living below the poverty line. Today, the organization serves more than 20,000 families with diapers and incontinence supplies each year.Over the past 20 years, the diaper bank has distributed more than 8.5 million diapers and supplies throughout Southern Arizona. The diaper bank also works with more than 55 partner agencies to offer wide ranging services to clients. Partners include crisis nurseries, domestic violence shelters, senior centers and a variety of religious congregations. To make a contribution, visitdiaperbank.org/donate/arizona-tax-credit-donation.
Low- to moderate-income students looking for financial aid to further their education can receive support from Earn to Learn, an organization which works with students to save money and improve their financial literacy while earning a scholarship. Students participating in the program are instructed to save $500, which will be applied to the costs of attending college. 
Each year they accumulate $500, Earn to Learn will provide an 8-to-1 matching scholarship of $4,000. Students have at least six months to save up the $500. Earn to Learn even provides "Success Coaches" to help students set up a savings plan to reach their goal. The scholarship covers tuition and other school-related expenses. The organization is currently partnered with the University of Arizona, Arizona State University, Northern Arizona University and Pima Community College. Since January 2013, Earn to Learn has focused on college education, and has procured over $8.5 million in new federal funding into the state. To make a contribution, visit earntolearn.org/charitable-tax-credit/.
Native Seeds Search is on a mission to support sustainable farming and food security in the Southwest by conserving native seeds in their seed bank and promoting "arid-adapted crop diversity" of the region. This nonprofit is active in both agricultural and cultural preservation, and offers more than 500 varieties of seeds in their retail store, as well as Native American gifts and art. Along with the work they do with seed preservation and exchanges, Native Seeds Search also offers community education opportunities, events and classes. There are several ways to support them, including financial donations, volunteering, their "adopt a crop" program and donations of supplies and equipment on their wish list. For more information, visit nativeseeds.org.
The Southern Arizona Arts Guild is dedicated to advancing the arts in the region and bringing together the artist community. Made up of artists of all mediums, the group offers a variety of community classes, exhibits and events that gives Tucson a forum for appreciating art. Contributing to SAAG is a way to keep art alive and promote the local artisans that make the community so vibrant. The gallery/gift shop has everything from textiles to pottery and skincare products, making it easy to mark a few names off your holiday shopping list, while also doing something to help keep Tucson beautiful. For more information, visit southernarizonaartsguild.com.
Equine Voices Rescue & Sanctuary is a safe haven for horses who have been rescued from neglect, abuse, abandonment and slaughter. The loving team at this nonprofit rescue work tirelessly to rehabilitate horses and find their forever homes, whether that's at the ranch or when they're adopted out. They also focus on educating the public about horse slaughter and abuse. We think this group of animal rescuers deserves a helping hand themselves in reaching their vision of a world where horses are no longer "livestock" and only seen as "companion animals." There are many ways to support Equine Voices including financial donations, volunteer work or adopting or sponsoring a horse. For more information visit equinevoices.org.
The DeGrazia Foundation works year round to preserve the art and legacy of artists Marion and Ettore "Ted" DeGrazia. Established by Tucson's legendary Ted DeGrazia, the nonprofit operates the DeGrazia Gallery of the Sun, a museum which provides the public a space to enjoy DeGrazia's beloved gallery. Education and providing youth access to art are priorities to the foundation as well. Financial donations help the foundation to conserve the gallery, art, buildings and gardens, as well as create educational materials for guests. The museum has a full gift shop of prints and originals that make great holiday gifts and also support the foundation's efforts. For more information, call 299-9191 or visit degrazia.org.
Contributions to this story were made by Jamie Verwys, Jeff Gardner, Christopher Boan and Logan Burtch-Buus.