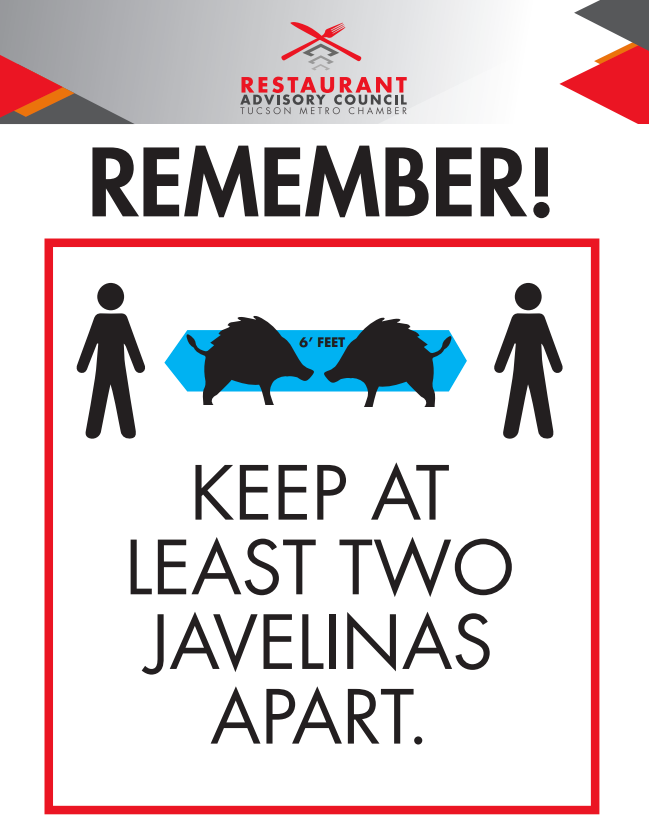 Where are you likely to go to celebrate a new graduate? A restaurant. Where are you likely to go on a first date? A restaurant. What do we sometimes take for granted because they are always there? Restaurants.
Restaurants and food are so ingrained in Tucson's culture that our city was named the UNESCO City of Gastronomy—the first city to receive that distinction in North America. Yet, despite that designation, the many James Beard awardees and nominees, and the extremely diverse ethnic options we enjoy throughout the region, restaurants were among the first businesses to feel the negative economic repercussions of the COVID-19 pandemic.
When non-essential businesses, which included restaurants, bars, gyms, attractions and more were ordered to close on St. Patrick's Day, of all days, the only option afforded to restaurants was takeout and delivery. While this allowed for some money to fill the cash registers, it was not even close to the revenue needed to operate and retain employees. We heard from many of our restaurant members that takeout and delivery only made up 30 percent of their typical receipts.
It is for this reason and more that we started the Restaurant Advisory Council. The RAC focuses on creating best industry practices, identifying regulatory barriers to doing business and overall advocating for the industry at all levels of government. Initially, our work focused on making sure restaurants and bars were aware of the many local, state and federal programs that could assist them financially. We then started the process of creating our own health, safety, communications and wellness guidelines, which were based on current ServSafe practices, food safety regulations and recently formed CDC social distancing recommendations. We were then asked to lead one of the subcommittees of the Pima County Back to Business Task Force and used the information we gathered during our RAC virtual meeting sessions to craft region-wide health and safety guidelines for many different businesses about to reopen.
This is where the disconnect occurred.
The county released a proclamation including 17 additional, mandated measures for restaurants and other businesses to follow. One example was requiring restaurants to take the temperature of delivery drivers and vendors and prohibit customers who have symptoms from entering their establishment. This would have shifted host and hostess to play doctor, and that potentially could lead to a series of liability issues.
The Chamber's advisory council and other partners created new language and alternatives, all dedicated to creating health and safety standards that also allowed for reasonable restaurant operations. Through three public hearings in the span of eight days, four new versions of the proclamation were created amending the 17 (which were reduced to 15) measures.
A significant compromise achieved is to allow for the expansion of outdoor service areas to increase physical distancing standards. Since occupancy inside restaurants is limited due to six-foot distances between tables and other social distancing guidelines, this allows for creative use of parking lots, plazas and other areas adjacent to restaurants to help maximize the ability to serve patrons. This can also help address fears individuals have about being in an enclosed space. Other businesses can also temporarily expand their footprint in creative ways.
The adopted proclamation set a standard for other jurisdictions to follow and now all have a set of temporary extension-of-premises measures for restaurants, bars and other retailers to follow. 
Public health and safety must come first but we appreciate the openness of the county, the city and towns for allowing restaurants and retailers to find ways to meet social distancing guidelines while giving them tools to sell outside of their normal footprint.
All of this has been, and will continue to be, a balancing act. Some restaurants are ready to open while others want to wait. Some residents are ready to "go back to normal" while others do not feel safe. One thing we do know is that when the pandemic is over, business will change, and that will not always be a bad thing. We are always innovating and finding new ways of solving problems.
As restaurants evolve, a small change being made is eliminating physical menus and creating tabletop QR codes so patrons can use their smartphone to read the menu. This innovative idea and others will leverage technology, create efficiencies and signal new ways of doing business.
Our RAC restaurants and others across the community will slowly begin to open and it is our hope that they all survive. The chamber will continue to promote those that do open and the public will see our signs in shop windows encouraging safe practices and welcoming diners in.
As you head back out for celebrations, dates, or simply to savor the outstanding meals created in Tucson's restaurants, wear a mask, wash your hands, stay six feet apart and enjoy yourself.